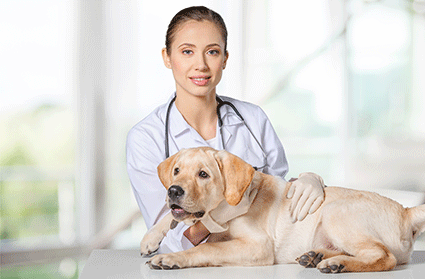 When you decide to own a pet such as a dog or cat, you must learn to care for the animal properly before you ever bring one into your house. Selecting a reputable veterinarian or vet to offer advice and to provide medical treatment to your animal is an important part of caring for your pet in an effective manner. You should line up a vet before you ever bring your pet into your house. This will ensure that you are comfortable with the vet prior to an emergency arising. The last thing you want to face is an illness or injury with your pet without the help of a vet. We share some things in the following information that you should look for in a vet to ensure that you locate the right one for you and your pet.
A Convenient Location
The vet should be in your local area to provide you convenient access to the facilities. When your animal is sick or hurt, you do not want to drive any further than necessary. You will find it ideal when this doctor is no farther than 20 minutes away from you. Ask your friends, neighbors, family members or even coworkers what vet they prefer who may be in or near your area. In addition, asking the local animal shelter or performing an online search may also reap a few veterinarians for you to consider for your pet's healthcare needs.
The Appropriate Education, Certification and Licensing
Today, it takes years of education to become a professional animal doctor. Typically, potential veterinarians earn a bachelor's degree in animal science, zoology or other pertinent science area, but there are certain training programs that do not require this four-year degree. All vets must complete four years of a Doctor of Veterinary Medicine or DVM program, which includes the following:
• Two years of classroom studies
• Two years of clinical experience
The classroom studies will cover small and large animal medicine, animal behavior, anesthesia information, surgery principles and practices, clinical pathology and other pertinent topics. On the other hand, clinical experience provides rotations in the broad range of specialties to enable the prospective vets an opportunity to select the one that appeals to them and also to expand their skills and knowledge.
After a prospective vet meets his or her educational requirements in his or her specific state, he or she will also need to qualify for licensing by passing the North American Veterinary Licensing Exam or NAVLE. The exam assesses the candidate's knowledge in a variety of areas that are pertinent to the practice of veterinary medicine. Requirements for licensing vary from state to state, so check with your state to understand if the vet you select has the right license to practice in your area. You also may inquire about the types of certifications the animal hospital has, such as accreditation from the American Animal Hospital Association. Certifications such as these expand the knowledge and capabilities of the staff at the vet facilities.
Pleasant Attitude With Animals and Humans
When you visit a vet clinic to learn whether or not it suits your needs, observe the attitude of the staff members. They should have a pleasant attitude with the animals and their human owners. If the staff members are hateful for any reason, consider another animal clinic since you may not receive courteous service. In addition, their bad attitudes may cause the animals to become nervous and afraid. Cats, dogs and other animals may misbehave under these conditions. The waiting room could turn into a chaotic situation.
A Vet Clinic Should Provide a Full Assortment of Services
The veterinarian who you select should offer a wide assortment of services to care for your pet. Examples of these services include:
• Routine checkups
• Vaccinations
• Diagnostic procedures
• Treatment for common and uncommon health issues
• Surgery to correct broken bones, for spading and neutering, or to address other health issues
• Pet boarding with separate areas for dogs and cats
• Grooming and nail clipping
• Large animal services in case you own a horse instead of a dog or cat
• Small animal services for your cat, dog or other small pet
• Pet food, flea application and other supplies
• Emergency services
• Services for euthanizing pets who are sick or injured beyond help
• Cremation of euthanized pets
The Facilities Should Be Clean and Sanitary
All reputable vet facilities should be clean and sanitary to provide animal care in a healthy environment. You should not see animal feces, excessive animal hair or other debris on the floor or other furnishings. The staff members also should clean each exam room in between visits to prevent one animal from infecting another one. Animal care is a serious business, and the staff should treat it as such for the protection of you and your animal. Otherwise, your pet may catch a serious disease or case of the fleas just by a visit to the vet clinic.
Competitive Pricing of Services
Veterinarians should charge competitive prices for their services. If one near you charges fees that are extremely high in comparison to the one around the corner, visit the one around the corner. Usually, there is no justification why the fees are higher.
A Vet Should Communicate With You in an Effective Manner
The vet should communicate your pet's condition to you in a clear, accurate manner. You deserve the truth without any exaggeration or treading lightly to spare your feelings. Also, the vet needs to provide in-depth information whenever necessary on the pet's health issues and treatment options.
Convenient Appointment Times
Veterinarians should provide convenient appointment times, whether by call-ahead scheduling or walk-in appointments for those times when you cannot previously schedule a visit for one reason or another. Today, they even need to offer Saturday appointments for those pet owners who work Monday through Friday all the time.
Questions to Ask the Vet During an Initial Consultation
Along with the above considerations, you should ask the following questions during an initial consultation:
1. What are the clinic's payment procedures and policies in regard to emergencies and large unexpected bills? Does the facility offer various payment options to assist you in paying these types of bills?
2. Does the office handle after-hour emergencies or do you need to turn to an emergency animal clinic at these times?
3. Are there certain parasites or diseases prevalent in my area that may adversely affect my pet? What are the symptoms and treatments for these issues?
4. Do you accept my pet insurance at your clinic? If not, what type of pet insurance do you accept to cover animal care for my pet?
5. Does the clinic employ more than one vet? If I cannot schedule an appointment with you, is there someone else here available who is qualified to care for my pet?
6. Do you handle all animal medical situations? Will I need to turn to a specialist to address serious issues?
7. What are your clinic's hours? Are you open on Saturday or only Monday through Friday?
Keep all this information in mind as you search for a veterinarian to provide top-quality service to you and your pet, and you will discover the one who suits you the best. Do not rush your decision to ensure that you learn all you need to know to make an educated decision on this manner.